H&K USC conversion to H&K UMP
If you can't find what you're looking for don't hesitate to contact us.
7       
 Home of the Best Hk USC to Hk UMP Conversion using real
Hk UMP parts, this is the closest you can get to the real Hk UMP LEGALLY!
About Compliance parts for USC/UMP conversions: All conversions Title 1 (transfer like any other firearm) or registered SBR's (NFA) done by HDPS CORP. comply 100% with BATFE regulations regarding imported parts count in an Imported Assault Rifle 18-U.S.C. section 922(r). and also rendered impossible to modify for illegal full auto.
Please if you are just purchasing parts, make sure to have your conversion done in compliance. Compliance parts for Title 1 conversions and SBR's are available to choose the needed 3 parts.
Warning, failure to comply will render your conversion illegal living you at mercy of $250,000.00 fine and up to 10 years in Fed Jail charges. Please be safe, be compliant !
Also note that another brand of conversion that uses a lower receiver/pistol grip as one piece, original USC lower and long stick 20 rds magazine, all their parts ARE NOT made in U.S. and none of them count as compliance parts! Don't make an illegal mistake!
See other important Warning at the end of this page.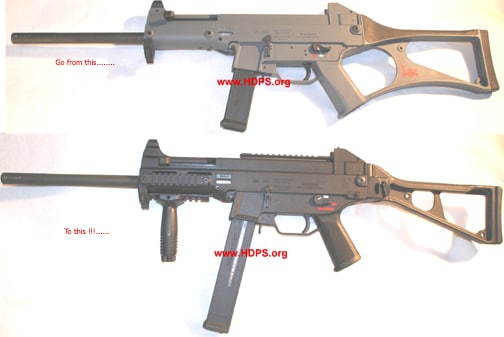 Above is the SBR UMP clone, below are the real UMP's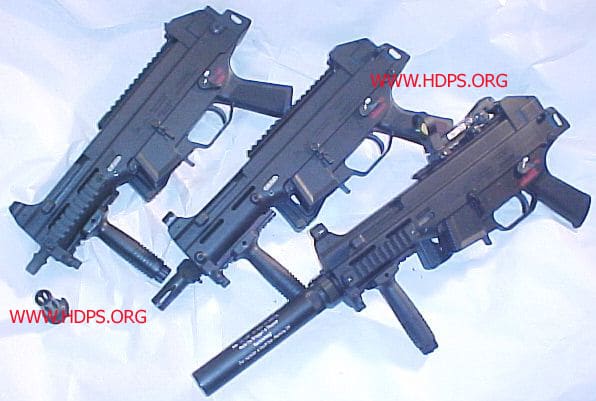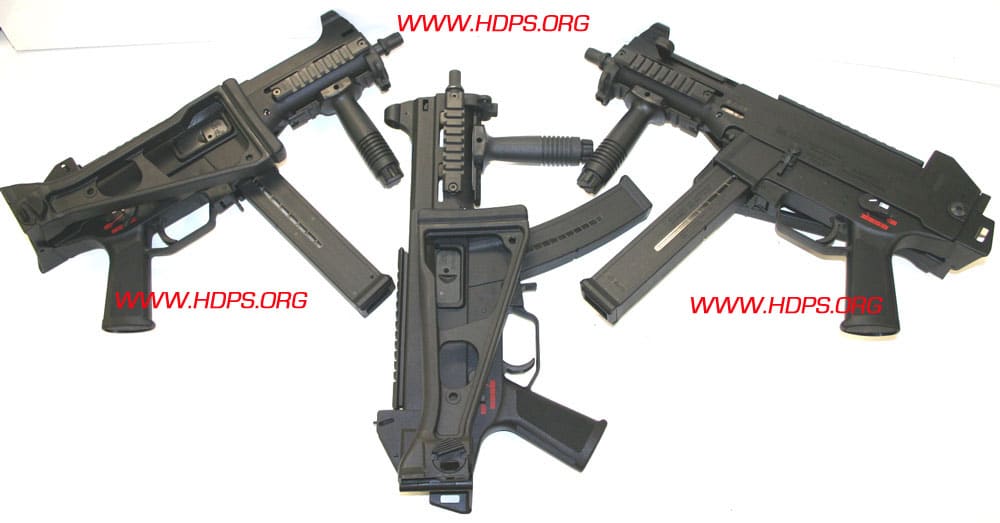 TRIO SBR UMP clones in .45ACP – 9mm – .40S&W calibers
USC to UMP stock block "B"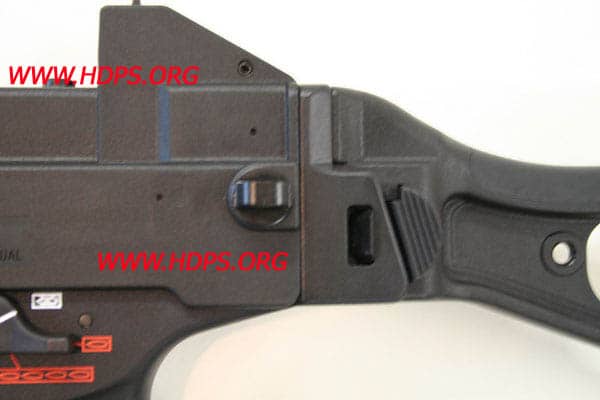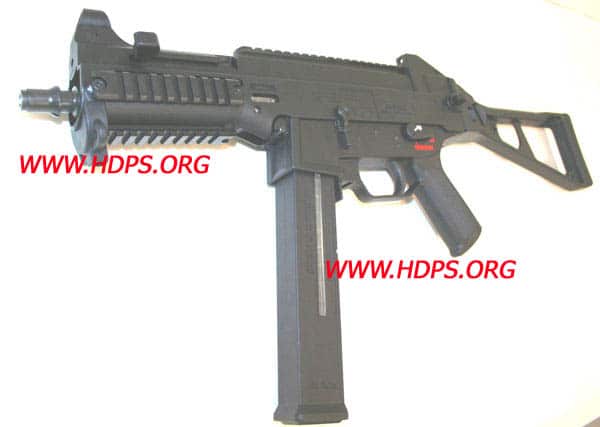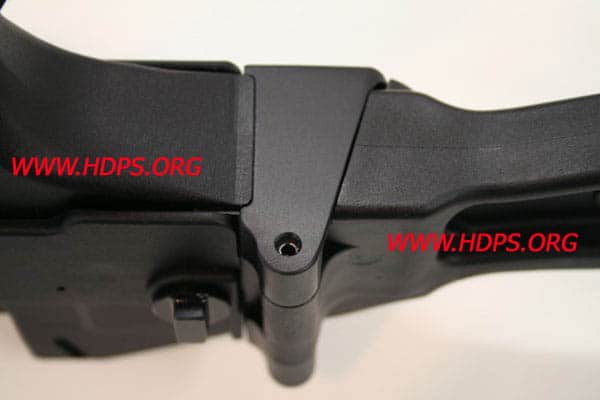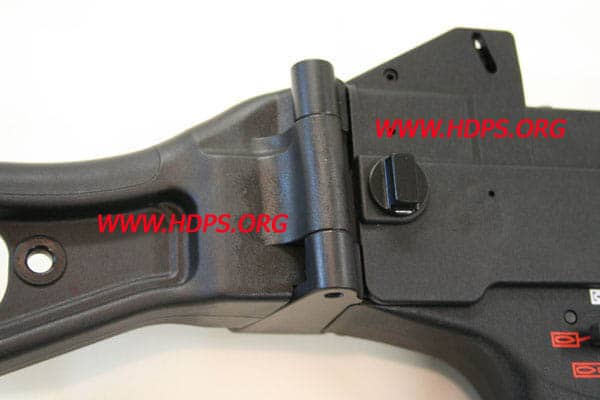 Disassemble sequence for Block "B" or "C"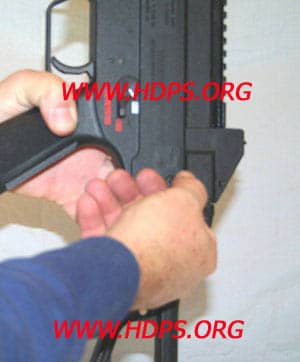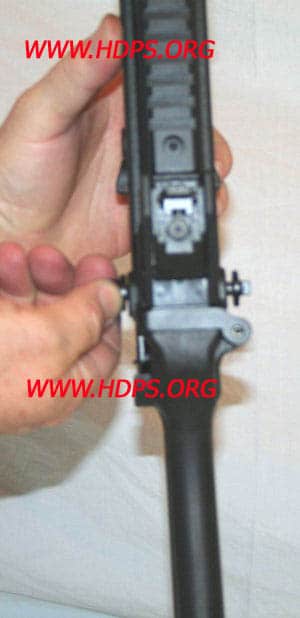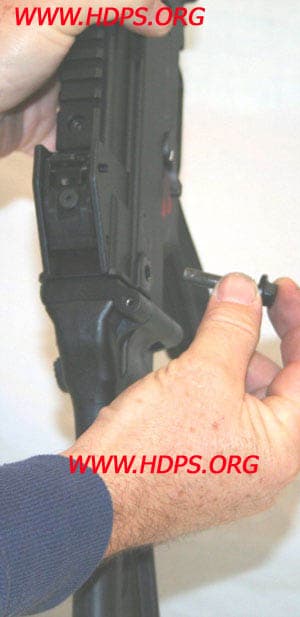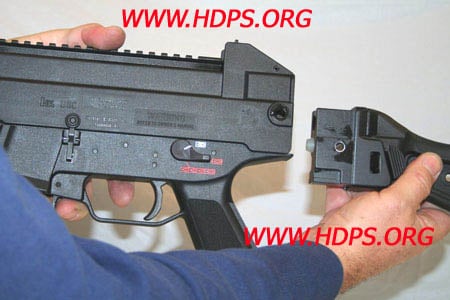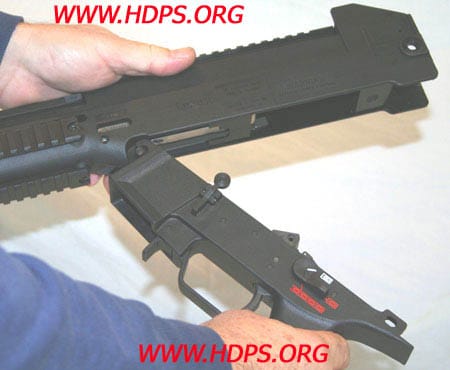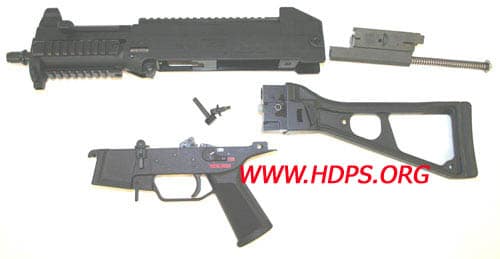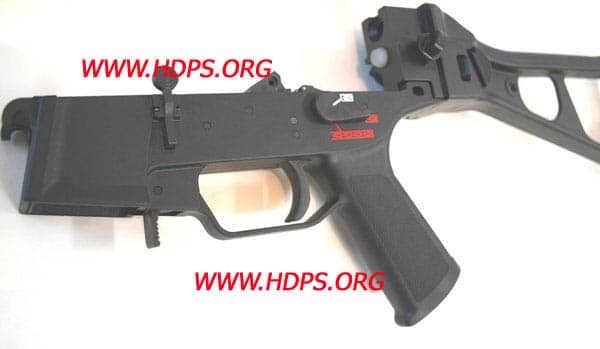 If you already have your USC, you can ship it to us for the conversion and here is the break down in prices, you choose what you want for parts or services, turn around is 3~4 days for full conversion but you must e-mail to get in the schedule.
-NOTICE- OLD STYLE UMP lowers require some extra milling and fitting, add $20 for those old lowers.
Compliance Parts for the USC
For USC conversions For USC Kit price just add the price of the three parts you choose from the four available ( See listed barrel and stock prices) don't forget if using a M16 or AK style folding stock, the stock will count one US made compliance part)
ATTENTION, most of the new production of HK UMP folding stocks are out of their own factory specifications, date code is – AI and forward.
If you have one of those I am able now to "fix" those folding stocks
You can see in the PICs the difference
Real UMP Carbine with stock on left, Bad stock on right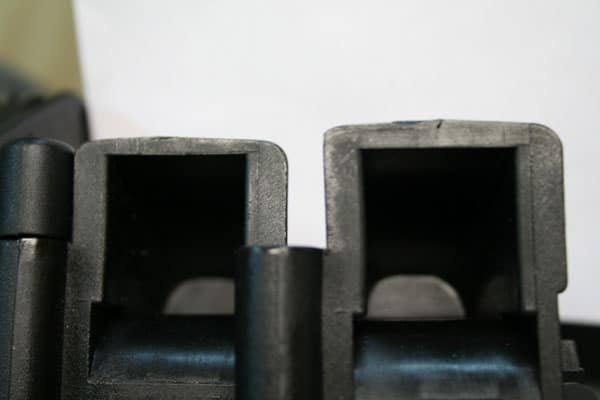 Good UMP stock on left, Bad stock on right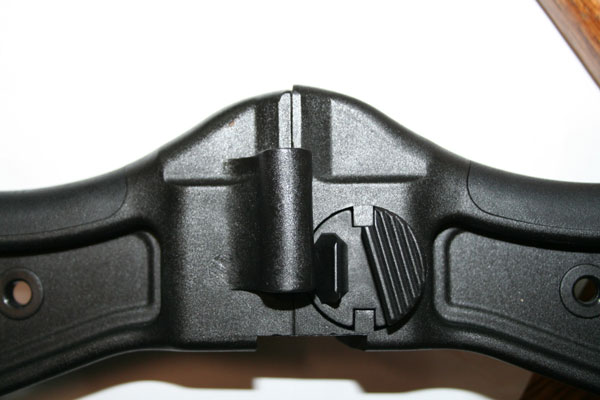 Bad UMP stock against real UMP carbine

Bad UMP stock against stock block B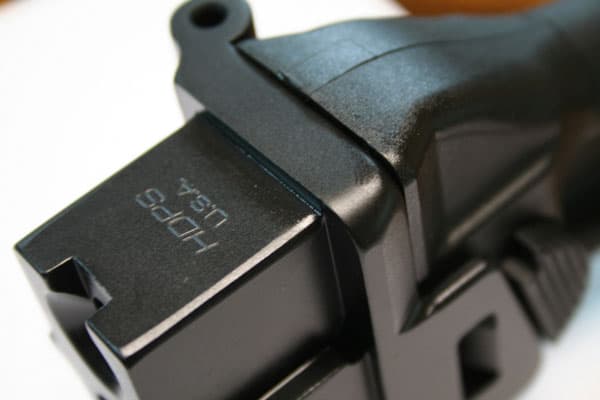 date code on new production stock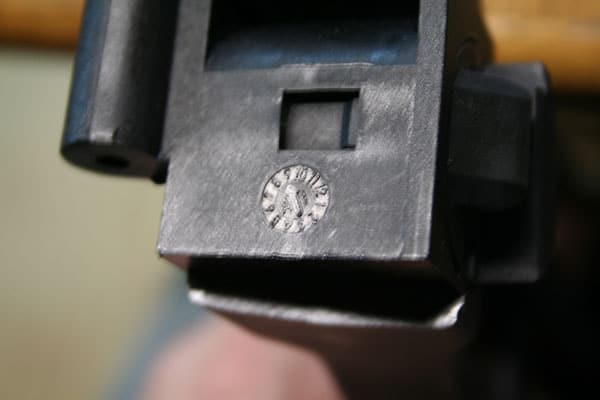 ATTENTION, before you send a conversion in, please pay attention on your hammer first.
Hammer without a relieve in the right side will be problematic, usually they are found in the G36 lower grips and old early SL8-1, they will not work in the USC/UMP unless the relieve is made.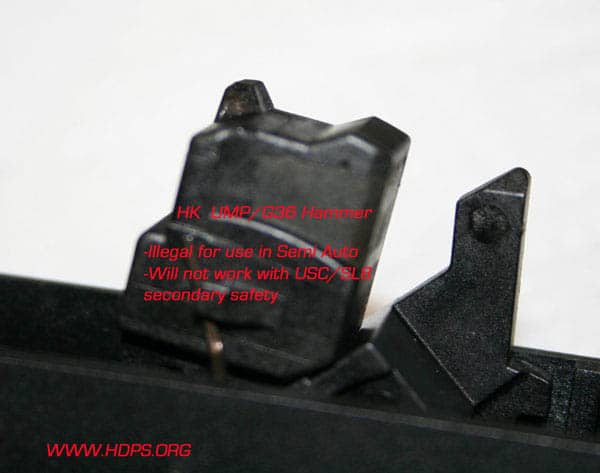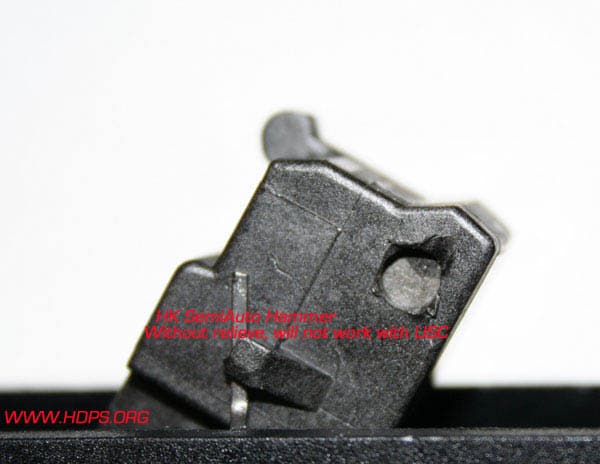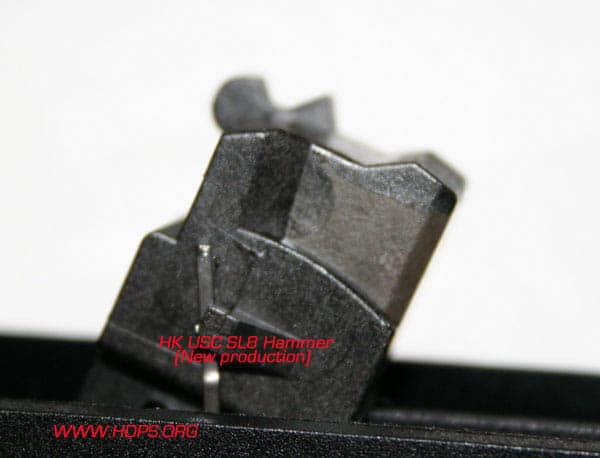 This photo was given to me by the BATFE Firearms Technology Branch
ATTENTION

, If you are purchasing a second hand USC, make sure that the upper receiver was not milled out in order to fire in full auto like in the above photo. The receiver itself will be considered an illegal machine gun.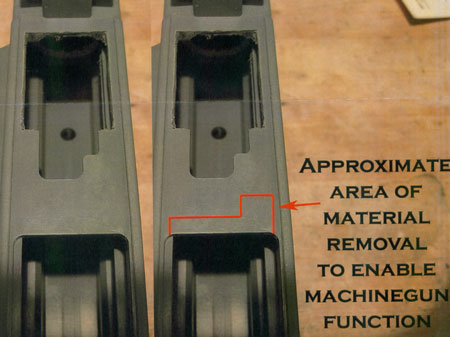 Before sending any USC upper receiver to HDPS CORP. for services make sure it is not illegal, in the case I receive an illegal machine gun upper receiver I will be required to render it to BATFE.
                                                                                                                                 
$  35    Labor to invert white mark at USC selector if using NAVY lower
$  25    Replace internals
$  50    Labor to turn UMP Lower to work together with USC Upper
$  70    Engrave Polymer receiver for SBR
$  30    Mill upper receiver to accept the UMP Mag
$  100  Mill Rt. and Lt. UMP and lower vents in front receiver 
$  100  Dye Job on Upper Receiver only (Industrial Dye)
$  50    Fix out of specifications After Market UMP lower                                 
$  40    Labor to completely close with polymer the Release Lever Catch front section in the UMP lower, pin is modified to prevent slide out  and top of the fill is milled out ( this service prevent the lower to be used in full auto function by replacing the disconnector, most call it wrongly as Auto Sear). This also helps to secure and create a strong base for the front slim plastic wall that hold the strong hammer springs.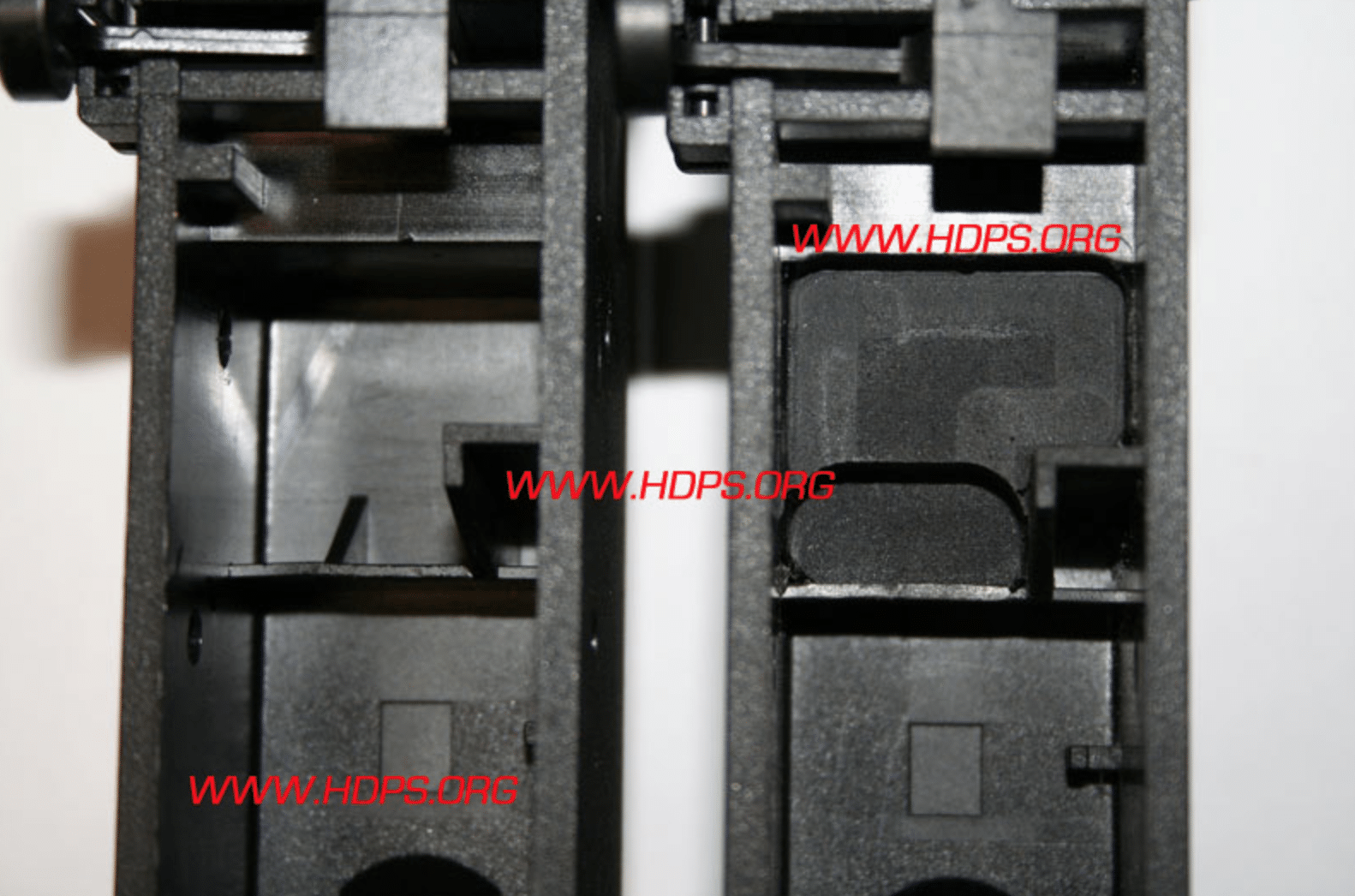 .

–

NOTICE- OLD STYLE UMP lowers require some extra milling and fitting, add $20 for those old lowers.
USC to UMP conversion COMBO
(NEW < L O W E R >  PRICES !!!!)
With this combo set you have everything you need to legally convert your standard USC Thumbhole Stock and 10 rounds mag to UMP Pistol Grip and hi capacity mag. All HK German parts are new, the lower already serviced to make it compatible with the USC upper and auto sear area blocked to be ATF problem free.
Combo components:
PARTS- HK UMP lower, 2 HK UMP magazines, HK UMP folding stock, HK Folding stock axle pin, HK UMP buffer, 
HK USC internals 
*
, 
HDPS stock block B with steel screws,

magazines have the 3 U.S. required compliance parts in order for the conversion to be legal.

(the 3 U.S. required compliance parts)
SERVICE INCLUDED-

Fill and Mill auto sear area, make UMP lower compatible with USC upper, replace all UMP parts with USC parts, replace mag followers and floor plates and for the NAVY style UMP lowers, invert white mark on right side USC selector, R&R all parts and check dry fire function test.
COMBO with FBI Style UMP lower – $ 1,775.00
(IN STOCK)

*
COMBO with NAVY Style UMP lower – $1,995.00
(OUT OF STOCK)*
COMBO with FOUR position Style UMP lower – $ 2,150.00 (IN STOCK)

*

                                                                                                                                                           

*

You will need send your USC lower in order to use your semi auto internals                                                                                                                      
$  ??  Shipping back to you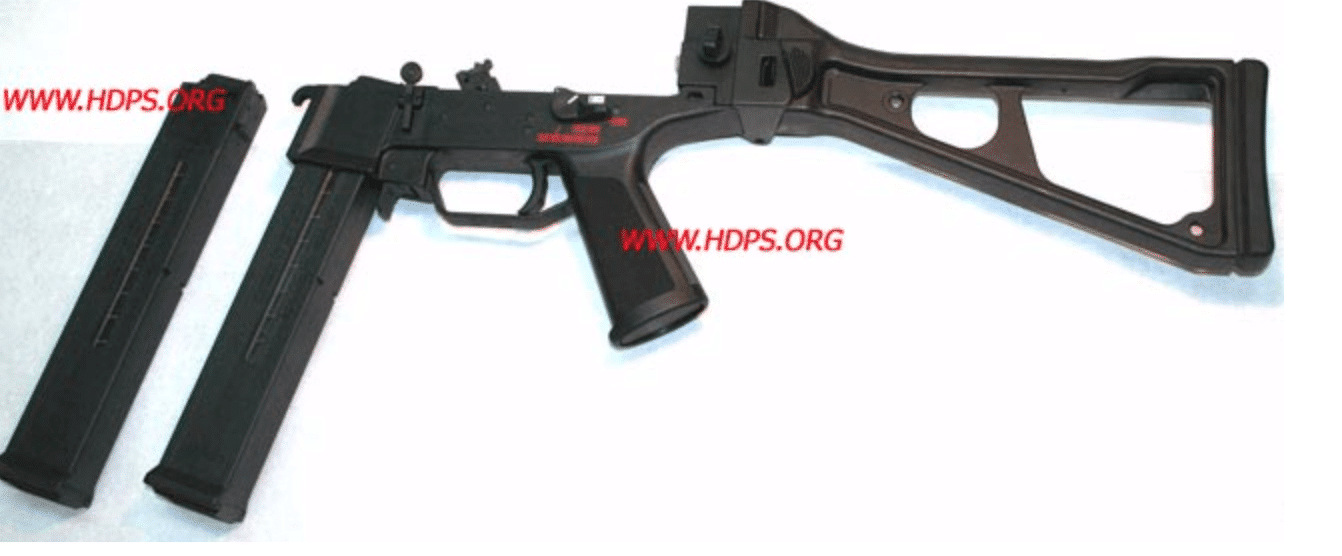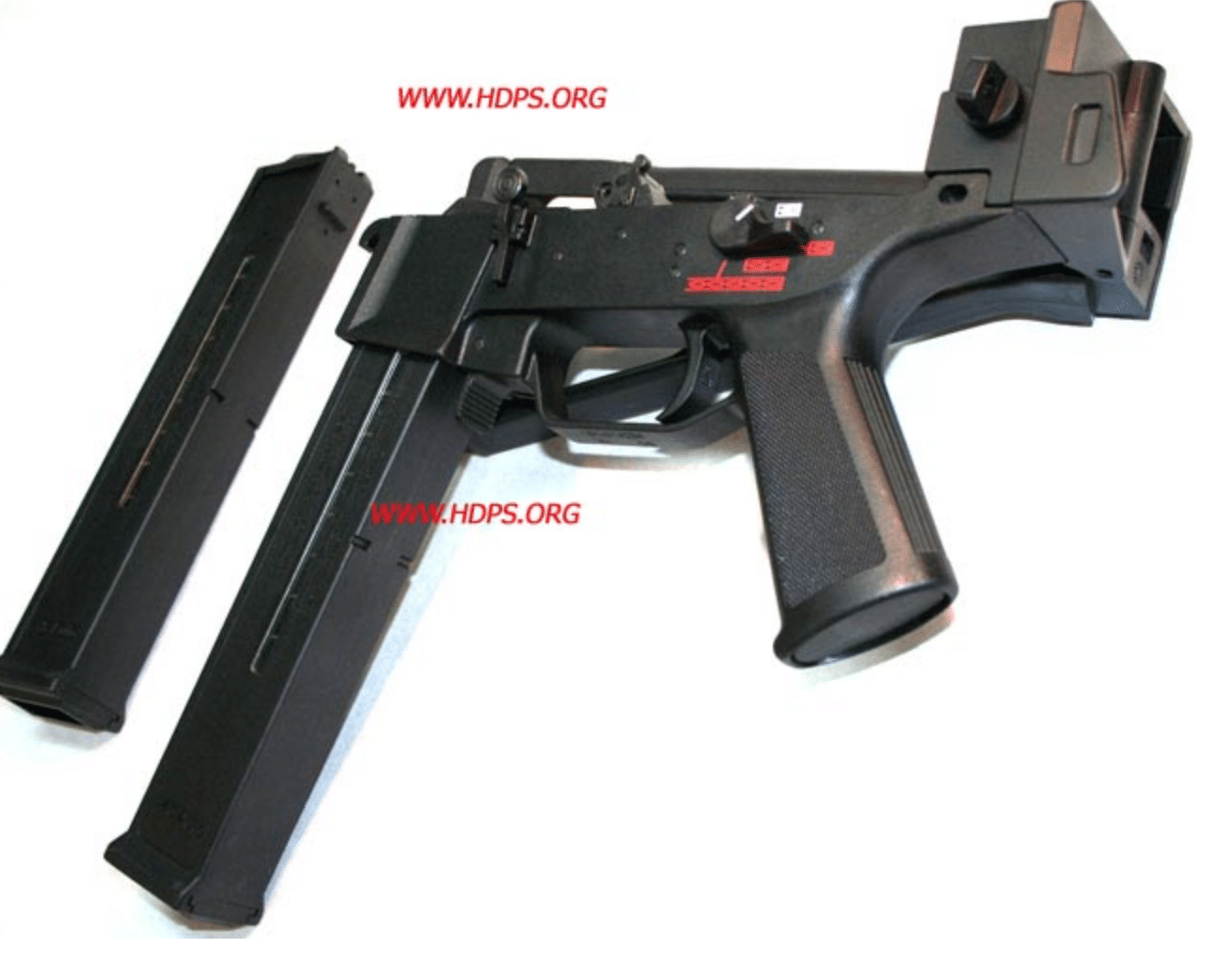 ATTENTION – If you purchase an After Market Copy of Hk UMP lower you will need make some modifications in order to be compatible with Heckler and Koch and HDPS parts.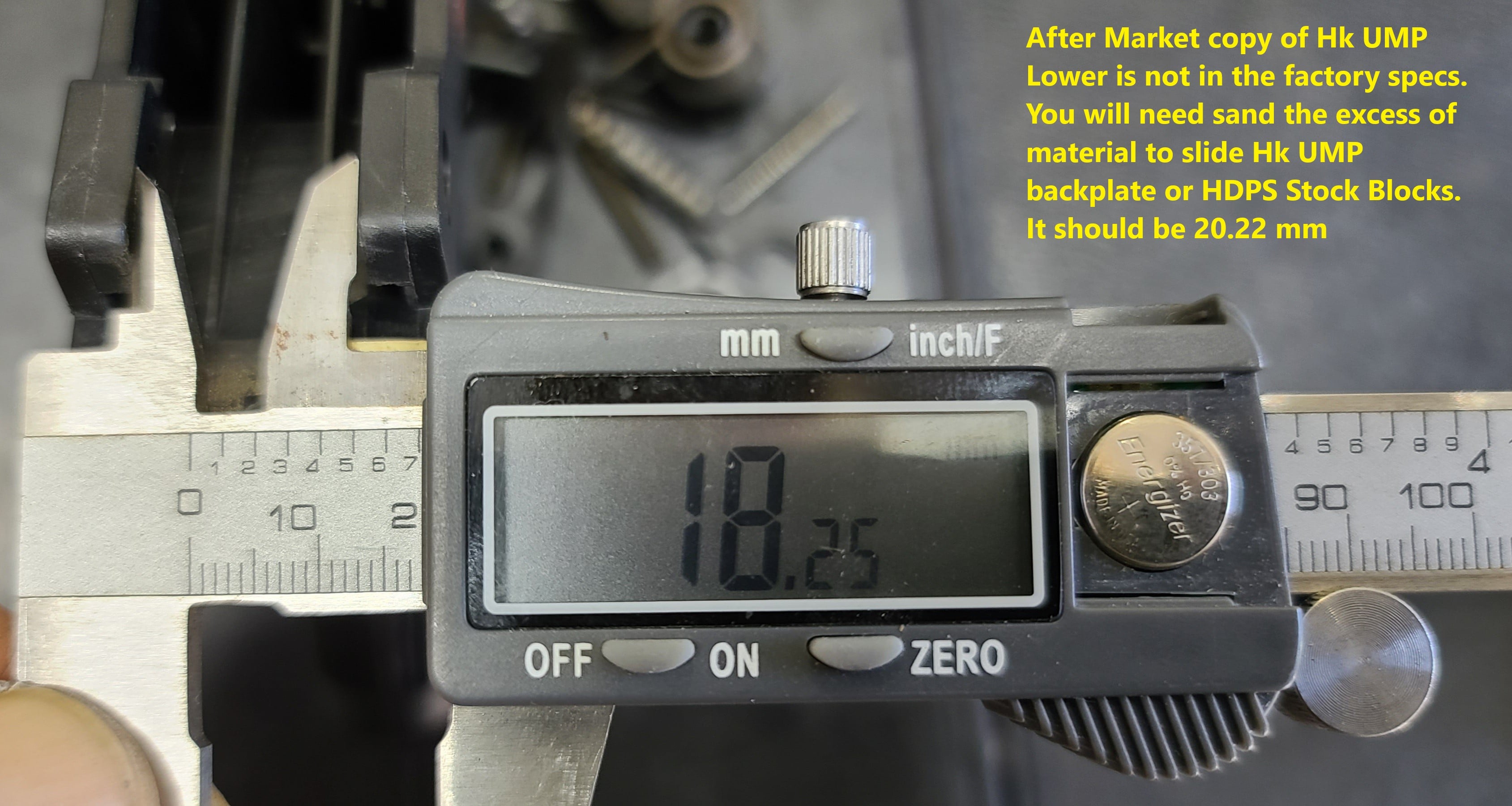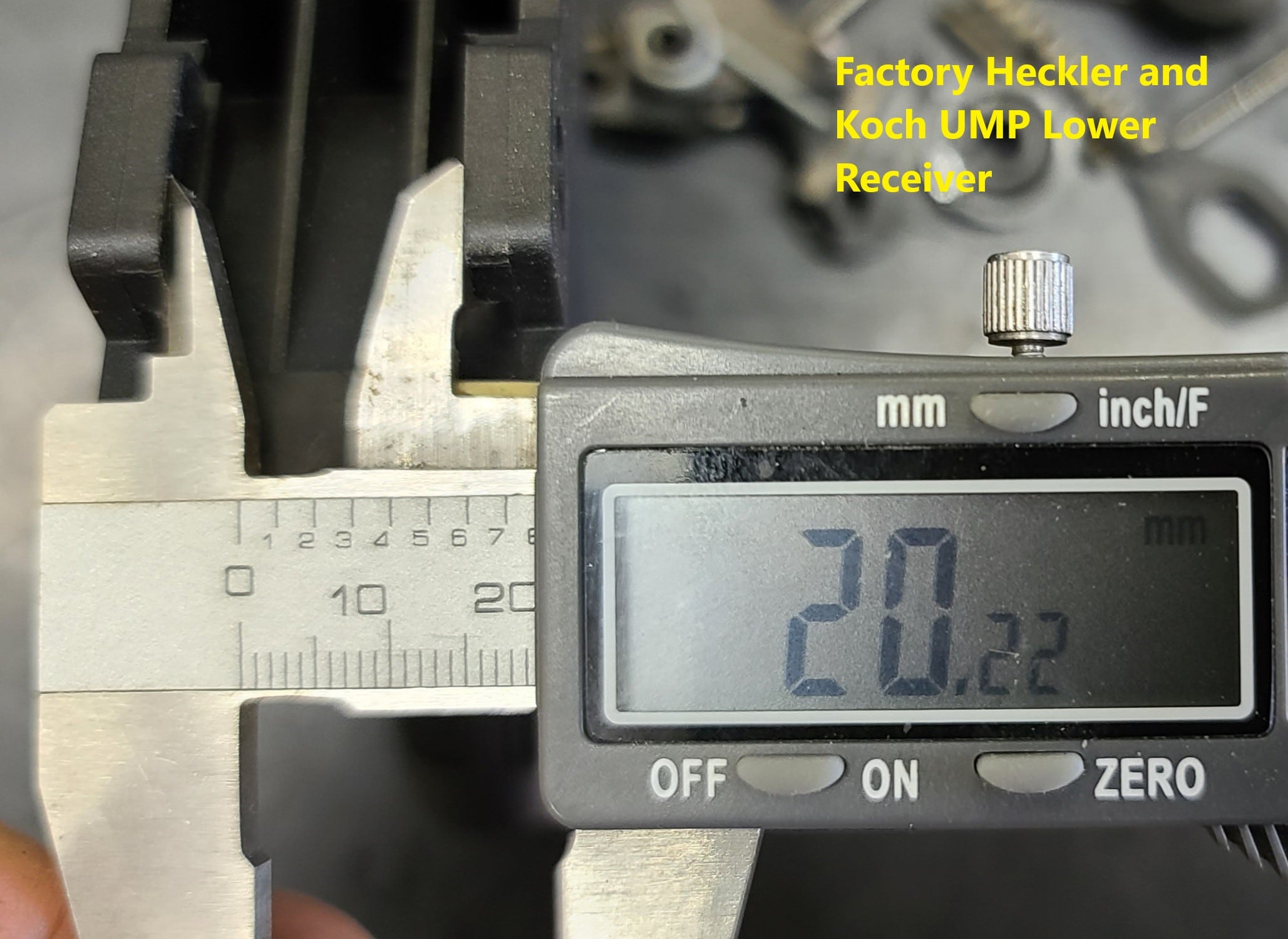 Privacy Policy
    HDPS CORP  respect our clients privacy. When your personal information is received, we use it only to fulfill the transaction or service you have purchased.
- We do not store Credit Card information, this site is SAFE to place your order, we do not directly collect, process or store your debit or credit card information. Online payments made through this website are processed securely by U.S. based third-party payment provider (ELAVON).
- We do not subscribe you to marketing emails without your consent.
- We do not sell or give away your contact information to any other entities.

- We do not allow the Merchant Processor that process transactions for us to sell or give away your information either.
This policy applies to personal information collected on HDPS.ORG

We do not collect cookies or track what you purchase to target you later like most websites! Your privacy is important to us.
 We do collect

your 
IP addresses for secur

ity purposes, yours and ours.
Homeland Defense & Police Supply Corp
We specialize in Assault Weapons, Class 3 Firearms and Suppressors for Civilians and will also provide help and logistic for Govt. Agencies and Police Depts.